UPDATE: Producer Mike Will Made It confirmed that he, Kanye West and Miley Cyrus went into the studio right after Miley's VMA performance to record the Black Skinhead remix.
Hold the phones everybody! Sources believe that Miley Cyrus and Kanye West have teamed up to record a remix to "Black Skinhead" and a couple of other tracks, namely on Miley's upcoming album, Bangerz! WHAAAAAAAT?! Apparently, right after the VMAs last Sunday, Miley and Mr. Kardashian skipped all the post-MTV Video Music Awards festivities in New York City to record the remix due to the fact that Kanye wanted the energy they had in their performances from the night to come through their recording. I hope that Kanye wasn't referring to this: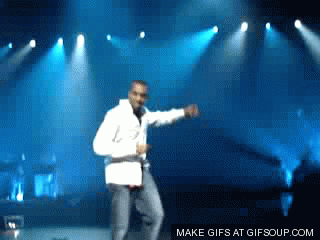 Either way, who expected Miley and Kanye West to be teaming up on a song? OMG this reminds me of the time Justin Bieber and Ludacris collaborated on "Baby." It was soooo adorable, until the video came out which showed Ludacris was standing alone at a bowling alley as Justin began his smooth talking. Just weird! Hopefully, something great will come out of this collaboration! I won't lie, I was a little hesitant about Kanye jumping on Katy Perry's already amazing "E.I.," but he really fit in well. It's still crazy to think little Hannah Montana will be collaborating with one of hip hop's most famous artists.
Miley's not just becoming a pop star, but a pop star SENSATION. Say what you will about her performance at the VMAs, but she got everybody talking from Twitter to gossip around the office (Ok, it was just Dubstep and me, but I couldn't tell if he didn't like it or that he drank Metal's expired milk.) She's putting the popular in pop star (or is it the pop in popular) and news that she's working on music with Kanye West will only make her more popular and gain more followers and haters. Haters gonna hate, but Miley's gonna twerk!
Speaking of twerk, Oxford Dictionaries Online just announced that they have added the word "twerk" in their latest update. She can't be stopped right now unlike Lindsey Lohan, who might have finally gotten back to her senses and hopefully make the TRUE sequel to Mean Girls. I guess it's just wishful thinking, but that second one on TV does NOT count! No matter how cute the outfits were in the movie!
What do you all think of this potential collaboration? Will the Miley Cyrus train ever slow down? Discuss it below in the comments!