A sneaker war is about to go down, people! And it's gonna get ugly.  Last week, Kanye West made the stunning (at least to people who care about sneakers) announcement that he was leaving Nike and bringing his talents to Adidas. It was basically the LeBron announcement, only if he was going from Miami to Cleveland.
Nike, however, had a plan B, or rather, plan D. Last night Drake revealed at his concert in Portland that he's been collaborating with Nike on a new line of Air Jordans. The world's greatest rapper and the world's greatest basketball player together at last!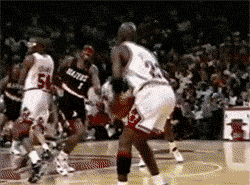 Judging by the picture of the new Air Jordans above, I'm not exactly sure what went down during Nike and Drake's brainstorming sessions. His sneakers look basically the same as the old Air Jordans, only these have "OVO" on the sole (and we all know how important a cool sole is).
At least the Air Yeezy 2, though fugly, showed some imagination. To be honest, I just wish Nike produced more of those Back to the Future kicks.
I would do anything for a pair of those! And by anything, I mean spend around $175. Nerdcore's not made of money!
Will you be waiting on line for Drake's Air Jordans? Let us know in the comments below!