Someone build me a time machine and take me to 2015 because that's when Back to the Future The Musical is going to become a reality!
I'll also need a plane ticket because the show will debut in London's West End. I guess it's a great excuse to check in on Harry and the gang and visit Hogwarts!
2015 is an appropriate year to debut the Back to the Future musical because it marks the 30th anniversary of the first movie. It's crazy it's been that long!
Back to the Future writer/director Robert Zemeckis and fellow BTF screenwriter Bob Gale are back on board to write the book for the musical. They'll be joined by British theater director Jamie Lloyd (no relation to Christopher).
According to Lloyd, "The production will include illusions, skateboarding and many other surprises that will capture the spirit of the film but freshly interpret it for a new audience."
I can't wait to see Marty McFly, Doc Brown, and the Delorean live on stage! My one suggestion is to trim some of the creepy incest moments between Marty and his mom. I always thought that was kind of not cool.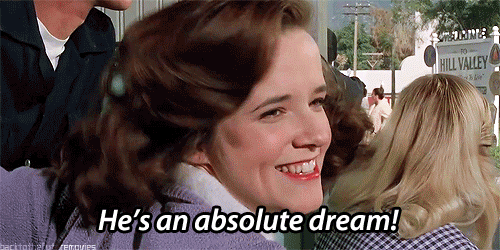 Is Back to the Future a good fit for a musical? Let us know in the comments below!