Whaddup dawgs!!!! ARF! ARF! It's your boy, Hip Hop, back in business. The TRUE Hip Hop, ya heard! Ain't got time to play around with nerdy things like Naruto, Dragonball Z, Akira, Samurai Champloo, and more of those animes I have no clue about! I'm bout to bring the grit back to the MyMusic website and get all of you pumped up to come back here to read my articles! Let's get to this!
So earlier today, reports came out that Kanye West aka Yeezy aka Yeezus flew all the way out to Kazakhstan this past weekend to perform at the prime minister's grandson's wedding. Yo, that's what I call a trip! Kanye performed a tight set including his hit song, Can't Tell Me Nothing, along with staying a little after the performance to take pictures which were eventually piled up on Instagram from the party's attendants.
How much did the Chi-town rapper collect though? 3 million! That's a whole lotta cheese and crackers! If I had 3 million rappers, I'd deck out my desk with some big ol' chrome rims on my desk legs, three ceiling-high speakers with full base on, 60 inch widescreen LCD tv right in the middle playing the Lord of The Rings Trilogy-I mean three big asses blocking my view from whatever's showing on my TV. Word to ya mother!
The real controversy behind this whole thing is that Kanye performed for the prime minister, Nursultan Nazarbayev, who has been in charge of his authoritarian government since the fall of the Soviet Union. Damn! That's some controversial stuff! Then again, 3 million dollars to perform for a couple of hours seems too good to be true. However, if your Kanye West, it's just another day in the park. It wasn't a huge expense for the prime minister who's family net worth is around 24 billion dollars. WHAT?! Kanye makin' that dictator money! C'mon now! That prime minister's got enough money for 18 lifetimes! He probably could create his own music festival in his basement with Jay-Z, 50 Cent, Kanye West, Nicki Minaj, heck, he probably has enough money to resurrect Tupac and STILL pay him to perform!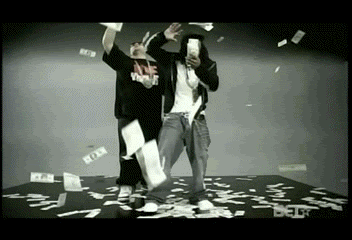 I don't know though people! There's a fine line with all this. Would you perform for someone even though you don't agree with what they represent if they gave you, say, 3 million stacks!? Psh, I don't know, but thinking of all that green would be definitely tantalizing. Pimpin' ain't easy, but making extra cheddar is if you're Kanye West.
What do you all think about the controversy behind Kanye's performance? Also, you all excited to see me back?! Holla in the comments below!