A lot of people, including this very writer, get frustrated with Taylor Swift's constant, "awww shucks, me???" routine and are turned off by her frequent celebrity romances and subsequent breakup songs.
But that doesn't mean that Taylor isn't a genuinely great human being. In fact, according to dosomething.org Taylor was ranked as the most charitable celebrity for the second year in a row!
Whether it was secretly donating $100,000 to the Nashville Symphony Orchestra or raising money for homeless kids alongside Jon Bon Jovi and Prince William, Taylor clearly has a massive heart!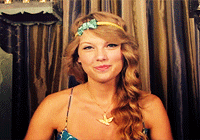 Also deserving some recognition are the boys from One Direction who came in at number two on the list. Louis, Zayn, Niall, Liam, and Harry managed to raise millions of dollars this past year for a variety of charitable efforts.That's pretty incredible.
Also on the list are Beyoncé because, as we all know, she's perfect, Macklemore & Ryan Lewis, my girl Carrie Underwood, Alicia Keys and even Miley and The Biebs.
With the success of our Education Charity Drive, hopefully the staff of MyMusic will make the list next year. We're famous enough, right?
For all the hate we give to celebrities because of their tabloid antics and mediocre musical output we also need to take the time to acknowledge all the good a lot of them do. Keep up the good work, famous people!
What were some of your charitable endeavors of 2013? Let us know in the comments below!