Oh My My, Taylor Swift could not have looked more glamorous if she entered on a White Horse! My girl took the stage Wednesday (the 13th! Her lucky number!) for the taping of the annual Victoria's Secret Fashion Show, which will air on December 10th. Tay Tay shared the stage with them Falling Boys, who appeared unphased for rockstars  surrounded by gorgeous, half-naked women! Real gentlemen! I can see why Scene likes them so much!
Though I do prefer seein' Taylor in her cowboy boots and sundresses, she could not have looked better in her short, urban-chic outfits! Southern girls gotta have sparkles, too!
One of Swifty's most memorable outfits from the previews was her Union Jack dress, which she rocked with a matchin' top hat that made her look like an American Spice Girl!
Personally I would've preferred something a little more patriotic to the good ol' USA, and swapped the top hat for a ten gallon one. No matter, Taylor looks flawless in anything and matched the fashion show's "British Invasion" theme, and we all know how much our girl looooves the British!
In all seriousness, Ms. Swift is apparently BFFs with some of the Angels – which isn't that big of a surprise to me; she fits right in with her beautiful, blonde, long-legged friends! Perhaps a little too friendly though!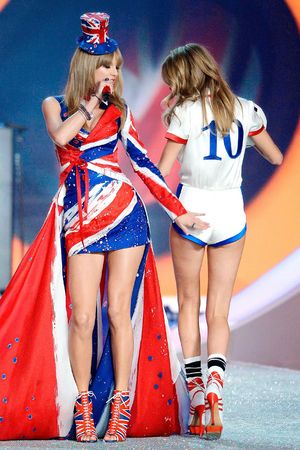 I hope she doesn't stray from her Southern roots… I of all people know it can be hard.