Hey you guys and welcome to the first edition of TOP THIS, our weekly series every Sunday where we give you the stats and FACTS about the top 10 songs of the week according to Billboard.
Let's just say I have a little bias towards the number two song this week, but I won't ruin the surprise for you. Ok, one guess! No, I'll give you a clue! Oh, it's Katy Perry's "Roar!" AHHHHHH this girl just couldn't keep her excitement in! She went up 83 spots this week! 83! I'm going to need the paramedics on speed dial once her album drops, that's for sure! At the top for like the 700th week is Robin Thicke's "Blurred Lines," but let me tell you, if I got to see that face of his at the top of the charts for 700 more weeks, you won't see me complaining!
Not stopping any time soon, Miley Cyrus's "We Can't Stop" dropped only one spot to number 3. Imagine Dragons with their heart-pumping "Radioactive" took number 4, and Jay-Z ft. My Future Husband's "Holy Grail" rounded out number 5. Take a listen to the top ten of the week on the Spotify playlist below!
1. "Blurred Lines" Robin Thicke ft. Pharell & T.I. (LW:1)
Mmmmmmm, can't get enough of Robin, but he's gotta do a better job of dodging those foot slaps!
2. "Roar" by Katy Perry (LW:85)
Awwwwww! I'd think Katy and I would adopt matching lion cubs and name them Fuzzle and Wuzzle.
3. "We Can't Stop" by Miley Cyrus (LW:2)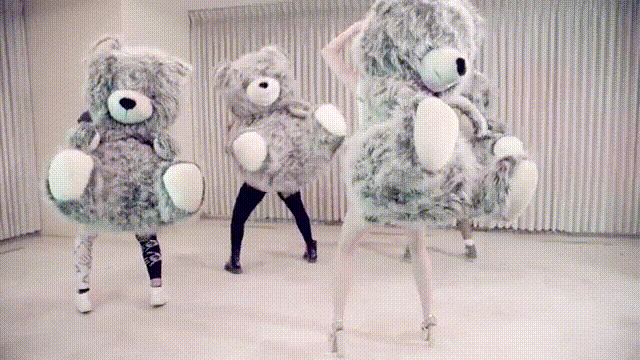 Ugh! I've been dying to get one of the teddy bear backpacks from the music video, but they don't have any in brown. Sad face!
4. "Radioactive" by Imagine Dragons (LW:3)
My pump up jam before I go window shopping!
5. "Holy Grail" by Jay-Z ft. Justin Timberlake (LW:5)
Can I have him and Robin?
6. "Applause" by Lady Gaga (LW:6)
Girl, that crazy spinning does not justify you being at only number 6!
7. "Get Lucky" by Daft Punk ft. papasurvey.com Pharrell (LW:4)
I used to loooooooove this song, but now that it's on Techno and Dubstep's annoyingly loud playlist that plays through the whole day, I CAN'T stand it!
8. "Treasure" by Bruno Mars (LW:7)
Bruno!!! OMG so glad you're still here. I was still recovering from "Get Lucky," and you swooped me off my feet!
9. "Cups (Pitch Perfect's When I'm Gone)" by Anna Kendrick (LW:6)
We all know how totally amaze Pitch Perfect was, so you know how happy I am this song is still in the top ten. Work those cups, girl!
10. "Safe and Sound" by Capital Cities (LW: 9)
Awww they're so adorable! Even with the caveman beard!
What do you think of the top ten this week? Sound off in the comments below!!!