As hard as it is to say goodbye Idol, I couldnt be happier to say so long to Miley Cyrus whose song "Wrecking Ball" finally falls from the top of the Billboard 200. Best of all, she was replaced by Lorde!!!! and her amazing hit "Royals." Looks like my wish from last week came true!  I guess genies do exist!!!!
Yay! I haven't been this happy since the season 2 premiere of :The Legend of Korra"!!!!!!!!!!
The rest of the chart played musical chairs (what a fun game!) with a bunch of songs switching places! There is however an exciting new addition that'll make you go "Ring-ding-ding-ding-dingeringeding!Gering-ding-ding-ding-dingeringeding!Gering-ding-ding-ding-dingeringeding!"
Can u guess which song I'm talking about????
I was talking about "The Fox." Hope I didnt confuse u guyz!
1. "Royals" by Lorde (LW:3)
If u cant tell already, im super X-cited 2 c Lorde at the top! Looks like "Lord of the Rings" has some competition for the most amazing thing to come out of New Zealand!!!!
2. "Roar" by Katy Perry (LW:2)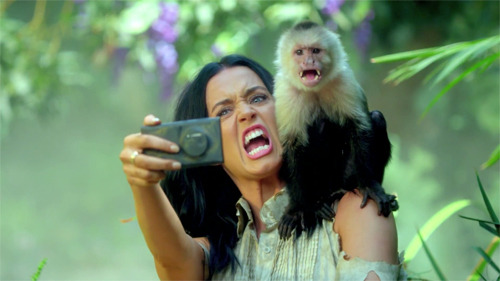 "Roar" might not be my favorite song but it definitely has 1 of the best videos of the year!!!
3. "Wrecking Ball" by Miley Cyrus (LW:1)
Finally, the ball has dropped!
4. "Hold On, We're Going Home" by Drake ft. Majid Jordan (LW:7)
Congrats on your third consecutive no. 1 album, Drake! Having the no. 4 single is pretty awesome too!!!
5. "Wake Me Up" by AVICII (LW:4)
Sorry, T&D. Looks like "Wake Me Up" is finally starting to go down.
6. "Holy Grail" by Jay Z ft. Justin Timberlake (LW:6)
Can someone explain 2 me who Monty Python is? Apparently he made some sort of documentary about the Holy Grail.
7. "Blurred Lines" by Robin Thicke (LW:5)
This song needs to make a b-line … off the charts!!!! Yuck.
8. "The Fox" by Ylvis (LW:13)
It's so great 2 c "The Fox" make its way into the top 10, especially only a day after the YouTube Music Awards announcement! Yay, Ylvis!!!!
9. "Applause" by Lady Gaga (LW:8)
"Applause" makes me think of applesauce, which I luv. I think I'll eat some when Im done with this post!
10. "Summertime Sadness" by Lana del Rey & Cedric Gervais (LW:10)
"Summertime Sadness" is back at no. 10 after being no. 9 last week. Make up your mind already!!!
Which song would you like to see at the top of the Hot 100 next week? Let us know in the comments below!