Hey guyzzz, I've got some more Miley news 4 u … "Wrecking Ball" is still number 1 on the Billboard Hot 100. Yay? Im not sure what 2 think about Miley because I originally mixed-up my new friend Country with Hannah Montana and Country is so AMAZING which means Miley should be so amazing but she keeps taking over her clothes and riding on giant balls which is pretty gross. I'm so confused!!!
As far as the rest of the top 10, not much has changed since last week. "Work [BAD WORD]" from Britney Spears was the Hot 100's highest debut but that only came in at number 12. I don't know how to feel about Britney either. She also likes to take off her clothes and play with giant snakes which is also pretty gross! Why can't girl singers be more like Lorde? I think she is totally awesome!!!
Hopefully "Royals" will rise to the top next week! In the meantime, here's this week's top ten songs:
1. "Wrecking Ball" by Miley Cyrus (LW:1)
I'd rather watch "Wreck-It-Ralph"!
2. "Roar" by Katy Perry (LW:2)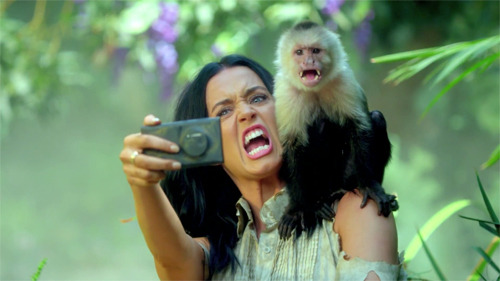 Hahaha! So cute!!! I should make Intern 2 act like that monkey!
3. "Royals" by Lorde (LW:3)
All hail Queen B!!!!
4. "Wake Me Up!" by Avicii (LW:5)
I definitely agree with this song if im having nightmares, but if im dreaming of indie please dont ever wake me up!!!
5. "Blurred Lines" by Robin Thicke (LW:4)
Yuck! More nudity!!! When will this song finally go away???
6. "Holy Grail" by Jay-Z ft. Justin Timberlake (LW:6)
These 2 guyz are adorable!!!! Heart! Heart! Heart!
7. "Hold On, We're Coming Home" by Drake ft. Majid Jordan (LW:8)
Drake is sooo talented!!! I wish him all the success in the wurld!!!!!
8. "Applause" by Lady Gaga (LW:7)
Lady Gaga may do things I dont agree with but I appreciate what she has 2 say so 4 that she gets my applause!
9. "Summertime Sadness" by Lana del Rey & Cedric Gervais (LW:10)
Awww, im sad summer's over. Well, at least now i can start focusing on halloween!!!
10. "Safe and Sound" by Capital Cities (LW: 12)
I luv luv LUV the horn in this song. Do do do do do do WE'LL BE SAFE AND SOUND!!!
Which song would you like to see at the top of the Hot 100 next week? Let us know in the comments below!