Hey everybody! If you're not tired of Miley Cyrus updates, I've got great news for you. I've got more!! Even though I've been busy working on questions for my upcoming interview with DJ Elephant, I was totally ready to hand the #1 crown to Miley for her new song, "Wrecking Ball."!
Outside of the song being totally amazing, it was Miley's very first number one single on the Hot 100! That's even higher than "We Can't Stop" or "Party in the U.S.A"! Girl is taking no prisoners with this tune! Liam has to be feeling absolutely jelly. When will he ever find another girl who has a number one single? Um, never! (You're still very cute, Liam, so what I just said changes nothing. Keep being handsome!)
Everyone's favorite blurrer of lines, Robin Thicke, tumbled from number 2 to number 4. Unbelievable! That song will never get old for me! I know you want it! Hey! Hey! Hey! It's OK though Robin, I've already gotten tickets to your tour so you can serenade me with that song for 3 and a half hours. However there's good news from his tumble! It's allowed Lorde's "Royals" to crack No.3 right behind Katy Perry's "Roar," which is No.2. Girl power!!!
There were big changes to the entire top ten. and you can make your judgments in the comments below over who deserves to stay afloat and which songs should plunge out of the top ten.  Check back soon for the official Billboard Spotify playlist when it gets announced as well!
1. "Wrecking Ball" by Miley Cyrus (LW:22)
Um, more like AMAZING Ball! Not to mention Miley's outfit is so cute in the video. So basically, just her boots.
2. "Roar" by Katy Perry (LW:1)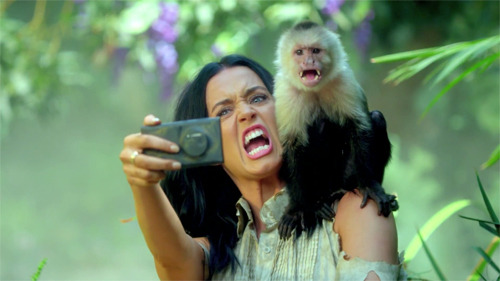 I just love people's music tastes these days. All the best music is always on the top!
3. "Royals" by Lorde (LW:3)
The final piece to the girl power top trio! Lorde have mercy!
4. "Blurred Lines" Robin Thicke ft. Pharell and T.I (LW:2)
Well, it looks like everybody's starting to see straight as the song dips lower in the top 10.
5. "Wake Me Up" by Avicii (LW:5)
I have a totally new appreciation for this song after hearing it 20 times at the freakout last weekend.
6. "Holy Grail" by Jay-Z ft. Justin Timberlake (LW:4)
JT, please have my babies.
7. "Applause" by Lady Gaga (LW:7)
Clap, clap, clap, clap. Time for that new single Gaga!
8. "Berzerk" by Eminem (LW:10)
Alright, tell me again why Eminem always seems like someone just stepped on his foot?
9. "Hold on, We're Coming Home" Drake ft. Majid Jordan (LW:8)
I don't care what anyone says, but he will forever be Jimmy to me!
10. "Summertime Sadness" Lana Del Rey & Cedric Gervais (LW:6)
Lana, you look so fabulous, but you always seem so bored! Why? Your hair is so fantastic!