U2 continues to maintain the title of  biggest band in the world yet they haven't made a decent album in over 20 years. In fact, every release they've put out since Achtung Baby has gotten progressively worse, much like the Police Academy franchise.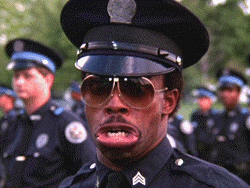 Yes, that was just an excuse to throw up a pic of "The Man of 10,000 Sound Effects" Michael Winslow. So what?
Getting back to U2, they've wisely sought to move on from the disaster that was 2009's No Line On the Horizon by enlisting the help of producer extraordinaire Danger Mouse. This is a guy who managed to do the impossible and make me enjoy the lead singer of The Shins (whom I swore off after Garden State) with their Broken Bells collaboration.
Leaving me more hopeful, U2 bassist Adam Clayton recently said that the new album will be "a bit of a return to old U2." Hopefully by "old" he's referring to the Boy and War years when the band was actually meaningful.
Probably the best news surrounding the new album is that U2 will be announcing its release date during the Super Bowl, a move that will hopefully upstage Bruno Mars' sure to be dreadful halftime performance. Rumor has it, the album will be released sometime in April.
If you can't wait until the new year for some fresh U2, the band will be releasing a 10-inch single (cool) for Record Store Day which will take place November 29.
Is U2 done or do they still have another good album left in them? Let us know in the comments below!