My identical cousin Idol specifically requested that my first MyMusic blog post should be about Justin Bieber. And so, I shall gladly oblige. The Biebs announced today through Twitter that for the next 10 Sundays at midnight, he'll release a new song each week. Does that sound swaggy or what?
Bieber's experiment, which he has cleverly labeled "#MusicMondays" will lead up to the Bieb's upcoming 3D concert movie, "Believe," the follow up to his 2011 hit film, "Never Say Never."
The first song released in the #MusicMondays is Bieber's long-awaited single "Heartbreaker," Back in July, Bieber offered a little taste of "Heartbreaker," posting the song's first line on Instagram.
Hmmmm. I have no idea where Bieber's secret place actually is but I'm hoping it's Dollywood because that place is a hoot!
Well, I for one am looking forward to new music from the Biebs. At least it gives Garfield something to look forward to on Mondays.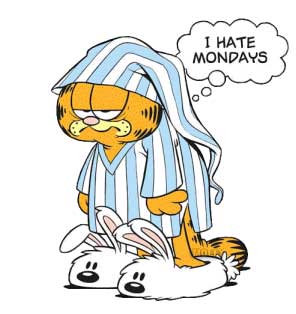 That cat always seems to have something stuck in his craw!
Are you looking forward to Bieber's #MusicMondays? Let us know in the comments below!