First of all, who's the jabroni that decided to let Rayna post on this blog? What's next, a column from Scarfman? Listen, you know I love you bud, but judging by your twitter account, let's just say writing is not your strong suit.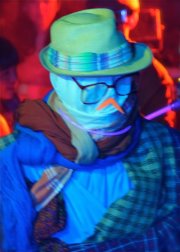 I'm getting side tracked. Let's get back to talking crap about my daughter. I mean, come on, why did she have to waste space here droning on about One Direction? Why can't she just embrace artists that kick ass rather than suck it??
I'm talking about bands like Metallica, who just announced the first few dates of their 2014 European tour including festival stops at Sonisphere, Rock Im Park and Rock Am Ring, where they rocked out in 2012.
This time around the band is allowing the fans to choose what songs will be played. Hell yeah! The setlist will consist of 17 songs voted on by the fans and one new Metallica song.
The only problem is I'd have a real tough time figuring out which songs to choose. With a 17 song limit Metallica could potentially do Ride the Lightning and Master of Puppets in full plus they could throw in "The Four Horsemen."
Yeah, that definitely works for me.
What would be your dream Metallica setlist? Let us know in the comments below!