Lorde does it again! Yep, this marks the fourth week that "Royals" has topped of the Hot 100 and that's a-ok with me.
I hope this is just the beginning for Lorde. Four more weeks! Four more weeks!
While I'm happy that Lorde's sticking around, I'm even more thrilled "Blurred Lines" is almost out of the top ten (fingers crossed its off for good next week)! Otherwise, besides Eminem's strong entry onto the Hot 100 not much has changed since this last week. See 4 yourself …
1. "Royals" by Lorde (LW:1)
I don't think I'll ever get sick of this so song! Then again, I thought I wouldnt get sick after eating 100 pixie stix and I was definitely wrong about that!!!
2. "Roar" by Katy Perry (LW:3)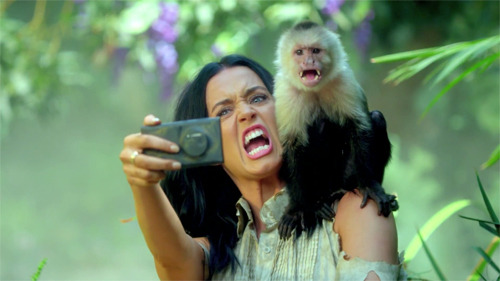 Country's obsessed with Katy's new album! I should probably give it a listen. Maybe we'll do an exchange and Ill have her listen 2 the Fall Out Boy EP!!!
3. "Wrecking Ball" by Miley Cyrus (LW:2)
Well, at least Miley's falling back down the charts again!!!
4. "Wake Me Up" by AVICII (LW:4)
AVICII will be performing at the YouTube Music Awards. Cant wait 2 c him!!!
5. "Hold On, We're Going Home" by Drake ft. Majid Jordan (LW:5)
I hope Drake solved his tour issues. He made a lot of his fans really sad 🙁
6. "The Fox" by Ylvis (LW:6)
If u havent already, u should totally check out Ylvis' new video for "Massachusetts." It's not as amazing as "The Fox" but it still brings the lulz!!!
 7. "Rap God" by Eminem (NEW ENTRY)
Not only did "Rap God" come in at number 7, it's also Eminem's 7th song 2 debut in the Hot 100 top 10. Maybe he really is a Rap God …
8. "Holy Grail" by Jay Z ft. Justin Timberlake (LW:7)
"Holy Grail?" "Rap God?" I had no idea hip hop was so religious!
9. "Applause" by Lady Gaga (LW:8)
Super duper excited for Gaga's Muppet special! I have so much to give thanks 4 this year!!!!!!!
 10. "Blurred Lines" by Robin Thicke (LW:9)
 This is the 21st week "Blurred Lines" has been in the top 10. That's 21 weeks 2 many!
Should Lorde's reign come to an end or is she still worthy of the top spot? Let us know in the comments below!