I'm happy 2 report that Lorde's "Royals" remains at the top of the Hot 100 this week. Way to go, Lorde! But I'm sad to report that there are no new songs in the top 10, considering that a lot of them have worn out their welcome!
I mean, Fall Out Boy just released 8 new songs! At least three of them should be on the charts, right???
Of course I'm right! Now let's check out this week's top 10!
1. "Royals" by Lorde (LW:1)
Lorde's debut album Pure Heroine entered the Billboard 200 at No. 3! What a week for Lorde!!!
2. "Roar" by Katy Perry (LW:2)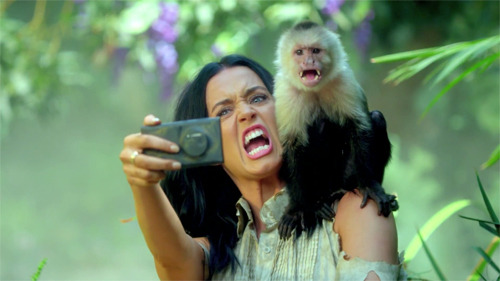 "Walking on Air," Perry's second single from her upcoming album Prism, debuted at No. 34 on the Hot 100. I'm sure it'll rise to the top 10 very soon!
3. "Wrecking Ball" by Miley Cyrus (LW:3)
Miley unfortunately stays put this week at No. 3. Boooo!!!!! Booooo!!! (And that a mean boo, not a fun ghost boo)!
4. "Wake Me Up" by AVICII (LW:5)
Techno and Dubstep danced extra hard to help get AVICII back to No. 4. The power of dance continues to amaze me!
5. "Hold On, We're Going Home" by Drake ft. Majid Jordan (LW:4)
Drake dropped a spot this week AND he no longer has the No. 1 album. Awww. If u c Drake, make sure 2 give him a hug. 
6. "The Fox" by Ylvis (LW:8)
"The Fox" leaps 2 No. 6 this week as I leap 4 joy! Hopefully we'll be seeing more YouTubers on this list real soon!!!
7. "Holy Grail" by Jay Z ft. Justin Timberlake (LW:6)
Congrats, Justin, on having the No. 1 album this week! And Jay Z, congrats on being married to Beyonce. According to Idol, she's the greatest person in the entire universe. Awww, I miss Idol!
 8. "Blurred Lines" by Robin Thicke (LW:7)
More mean booos 4 u, Robin!
9. "Applause" by Lady Gaga (LW:8)
Gaga might be spinning in the GIF above but on the charts she stays in place at No. 9.
10. "Summertime Sadness" by Lana del Rey & Cedric Gervais (LW:10)
I don't really have anything 2 say about this song, so I'll just repeat: Fall Out Boy deserves a song (or 3! or 5! or 8!) in the top 10!!!!
Which song would you like to see at the top of the Hot 100 next week? Let us know in the comments below!